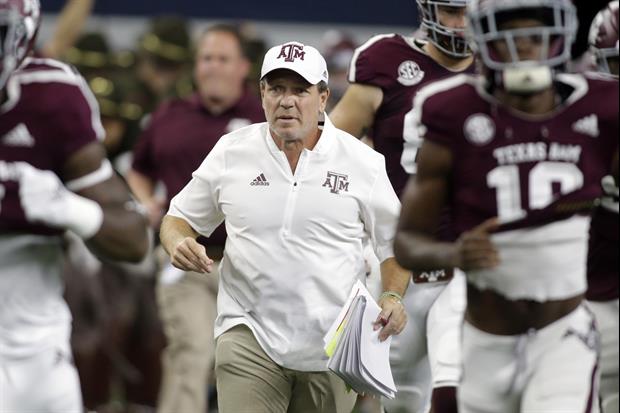 © Tim Heitman-USA TODAY Sports
Texas A&M's football program and head coach Jimbo Fisher have been hit with penalties after violating NCAA recruiting and countable athletically related activity rules between January 2018 and February 2019. Huh?...
quote:




---

The university, head coach and NCAA enforcement staff agreed that the head coach and an assistant coach had impermissible recruiting contact with a prospect at his high school. The conversation was impermissible because it occurred before the completion of the prospect's junior year in high school.

Regarding the countable athletically related activity violations, during permissible weeks of spring and summer activity, the football program unintentionally caused student-athletes to exceed activity time limits by approximately seven hours.

According to the agreement, the head coach failed to promote an atmosphere of compliance because of his personal involvement in the recruiting violation. The agreement also said the head coach failed to monitor his staff when he did not ensure the program was staying within the allowable number of countable athletically related activity hours.

---
So what are the penalties? One year of probation and a fine of $5,000, along with
these other sanctions
.
quote:




---

"While I am disappointed in the violations, including an unintended one that resulted from a conversation with a high school athlete, it is still my responsibility to ensure we are adhering to each and every rule," Jimbo Fisher said in response to the news, via ESPN. "I am pleased to have this matter completely behind our program and look forward to continuing our efforts to make every aspect of our program one all Aggies can continue to be proud of," Fisher said in a statement from the school."

---
Related:
Popular Stories