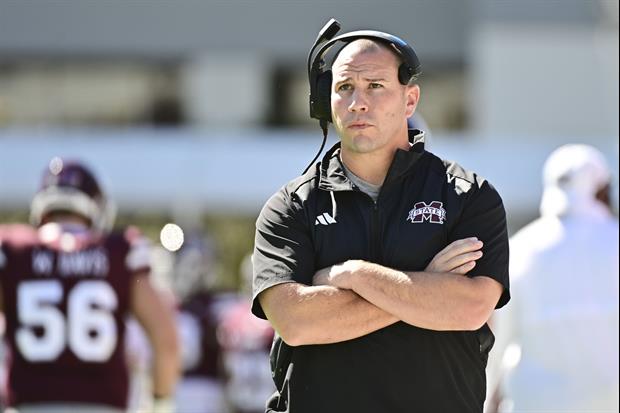 Matt Bush-USA TODAY Sports
The chatter in College Football this week has been the sign-stealing investigation at Michigan.
On Monday, Mississippi State head coach Zach Arnett was asked about his concerns about possible sign-stealing. Per
On3:
quote:




---

"Sign-stealing is not illegal, right?" Zach Arnett said. "Obviously, there's people on the opposing sidelines or up in the box always looking at whoever your signaller is. When I called defense – I think it's the same now – we just have one primary signal caller giving it."

Zach Arnett added that his staff isn't overly worried about sign stealing because most of the time there actually isn't enough time between plays to steal the sign, understand what it means, and counter it before the ball gets snapped.

"So, it's not something we spent a whole lot of time concerning ourselves with. All of that has to do with depending on how the opponent does tempo too or how long you hold your call, how realistic is it to even think that you can get all that information processed," Arnett said.

"Defensive guys see if they can try to figure out the opposing offensive guys' play signal, but if they're snapping the ball every 10 seconds, you don't have time for all that."

---
Where do you stand on the topic of the NCAA's investigation into Michigan?
Related:
Popular Stories