momentoftruth87
Alabama Fan
Member since Oct 2013
35579 posts

re: Hogs 2020 Schedule
Posted by momentoftruth87
on 9/2/20 at 7:27 pm to WaveHog
to be fair we have had some really shitty coaches, qbs, players, and unnecessary drama the last few years. We honestly have the most experienced QB in the conference and fresh hungry players and coaches. It will certainly be interesting.
hilltophog
Arkansas Fan
Fayetteville, Arkansas
Member since Sep 2016
1464 posts

re: Hogs 2020 Schedule
Posted by hilltophog
on 9/2/20 at 11:19 pm to momentoftruth87
The biggest issue we have had lately is the lack of giveafrick and the unwillingness to FIGHT.
Everyone crows and/or complains about recruiting rankings and roster talent. Recruiting rankings and talent are supposedly the end all be all. "Not about X's and O's but Jimmys and Joes". If that's the truth then there is no reason we should have lost a noncon game the past two seasons. There is no metric whether it be initial recruiting rankings out of high school or players drafted that shows Colorado State, North Texas, San Jose State, or Western Kentucky having better talent than us. No metric whatsoever.
Heck, the supposed best teams in the state (conway and jonesboro) could combine their best players and they'd have less drafted players and rank worse than we do in recruiting rankings. state hasn't had a player drafted in 6 years. The difference is that they actually play hard and have coaches that instill work ethic and a giveafrick attitude. Our players are like our fans (not blaming the fans) in the fact that the minute something goes wrong they say "oh here we go again - and throw in the towel.... Hogs gunna Hog". That attitude has been persistent since the ulm game back in 2012. Little did we know that OT loss to a Sun Belt team was not the worst that could ever happen.
Somebody has got to teach these players that yeah - we are going to get smacked in the f'n mouth. This is the SEC. Most teams are going to out talent us by a good bit. What are you going to do about it? You gonna lay down like a pussy or are you going to fight? Come out fighting and don't stop until the whistle blows. It's in the f'n fight song. The last three words are FIGHT - FIGHT - FIGHT! You give our fans a team that shows fight and they will start believing. Bielema didn't lose the fans until the team showed quit in the later stages of 16' and all the way through 17'. Plenty of sold out games before then despite being and underachieving average at best team. I mean shite.... here is the stadium after losing to Toledo the week earlier: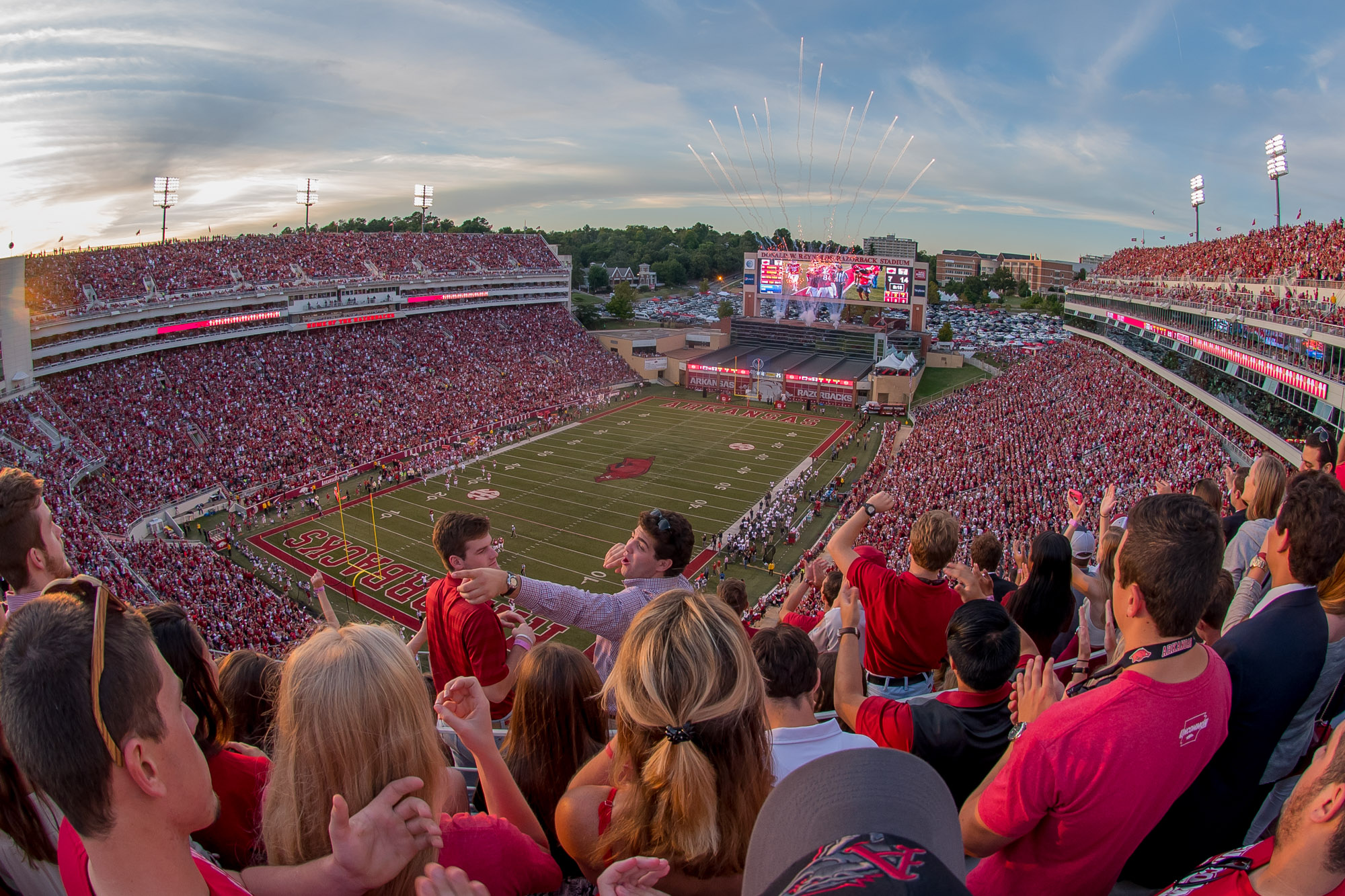 shite makes me f'n furious... what the frick Chad. Just win those rent a wins and act like you f'n care and we would have been there. You piece of shite. Instead we get media members taking pictures in the 3rd qtr. of the Western Kentucky laughing about Storey kicking our arse and how our fans have given up. Fans didn't give up shite - we just needed to leave the stadium so we could wash all the shite that Morris and crew were dropping on us.
This post was edited on 9/2 at 11:22 pm
dchog
Arkansas Fan
Pea ridge
Member since Nov 2012
1273 posts

Online

re: Hogs 2020 Schedule
Posted by dchog
on 9/3/20 at 9:03 am to hilltophog
The recruiting rankings are for the fans and not for the coaches. Bobby Bowden used internet recruiting sites when it started becoming popular in the early 2000s. His later FSU teams started declining to the point they went 6-6 in his last year. He said that was a big mistake because he didn't use his own evaluations.

The United States has a population of 330 million. Plenty of talent if a coach is willing to work hard to find them in this country. If you make excuses then we should have no point of even playing if hog fans have such an inferiority complex.

Frank Broyles, Ken Hatfield, Lou Holtz didn't bitch and moan a bout recruiting rankings because it didn't exist during those eras. Those coaches didn't need someone to tell them they had good or no talent. They knew what they had. Bobby didn't have so called good classes but he won 10 and 11 games. Hell even the Nuttster went 10-4 and were picked last in the west and he didn't care for them either.

I had a discussion with my uncle who is now a retired football coach. He said the gaps between Arkansas, Alabama and Arkansas state isn't much in talent. Upsets are becoming more common with these matchups. But what separates these teams are large areas of depth. Alabama has a talent advantage but the bigger gap is depth.

We didn't lose to North Texas or San Jose State because of talent. We lost because we had the worst coaching since the Otis Douglas years of 1950-1952.
hilltophog
Arkansas Fan
Fayetteville, Arkansas
Member since Sep 2016
1464 posts

re: Hogs 2020 Schedule
Posted by hilltophog
on 9/3/20 at 9:19 am to dchog
quote:




---

We didn't lose to North Texas or San Jose State because of talent. We lost because we had the worst coaching since the Otis Douglas years of 1950-1952.


---
Back to top
Follow SECRant for SEC Football News