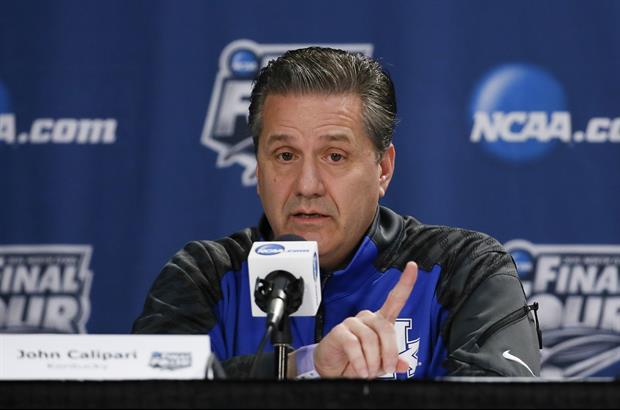 Kevin Jairaj-USA TODAY Sports
Following Monday's night's 60-54 loss to Connecticut in the national championship game, Kentucky head coach John Calipari denied a rumor that he was headed to the NBA.
Per ESPN:
quote:




---

"No. I'm right [here] at Kentucky," Calipari told ESPN's Jeannine Edwards. "I got the best job. I've got a good group of kids. Love what I'm doing. Speculation? That's there every year I coach."

Rumors began to circulate prior to Monday's title game when former Kentucky great and Wildcats TV color commentator Rex Chapman tweeted that Calipari would be the coach of the Los Angeles Lakers next season.

---
Here is the Tweet:
quote:




---

Rex Chapman @rexchapman
Was messin' 'round on Sat nite re: Cal. But word is - win or lose 2nite - it's a #DoneDeal ...Cal 2 La-La-Land 2 coach Mamba's Lakers. #NoBS
6:36 PM - 7 Apr 2014

---
Calipari is 55 years old and has already had one unsuccessful trip to the pros when he coached the Nets to a 72-112 record from 1996 to '99.
Popular Stories