Armymann50
LSU Fan
Playing with my
Member since Sep 2011
14083 posts

GMT
Posted by Armymann50
on 2/8/23 at 6:56 am
4
0
Today in History: February 8
1587
Mary, Queen of Scots is beheaded in Fotheringhay Castle for her alleged part in the conspiracy to usurp Elizabeth I.
1861
Delegates from seceded states adopt a provisional Confederate Constitution.
1887
Congress passes the Dawes Act, which gives citizenship to Indians living apart from their tribe.
1910
The Boy Scouts of America is incorporated.
1924
The gas chamber is used for the first time to execute a murderer.
1943
British General Orde Wingate leads a guerrilla force of "Chindits" against the Japanese in Burma.
1952
Elizabeth becomes Queen of England after her father, King George VI, dies.
1971
South Vietnamese ground forces, backed by American air power, begin Operation Lam Son 719, a 17,000 man incursion into Laos that ends three weeks later in a disaster.
1990
CBS television temporarily suspends Andy Rooney for his anti-gay and ant-black remarks in a magazine interview.
2021
South Africa halts rollout of Oxford AstraZeneca COVID-19 vaccine after research into the South African variant showed no protection against mild and moderate illness
Born on February 8
1820
William T. Sherman, Union general in the American Civil War.
1828
Jules Verne, French novelist, one of the first writers of science fiction (Twenty Thousand Leagues Under the Sea).
1834
Dmitri Ivanovich Medeleyev, Russian chemist, developed the periodic table of elements.
1931
James Dean, film actor and 1950s teenage icon (Rebel Without a Cause, East of Eden, Giant).
JOTD
BECOMING IRISH
Seven-year-old Mohammad entered his classroom in Dublin on the first day of school..
"What's your name?", asked the teacher.
"Mohammad," he replied.
"You're in Ireland now," replied the teacher, "so from now on you will be known as Mick."
Mohammad returned home after school. "How was your day, Mohammad?" his mother asked. "My name is not Mohammad. I'm in Ireland and now my name is Mick." "Are you ashamed of your name?" his mother asked. "Are you trying to dishonor your parents, your heritage, your religion? Shame on you!" And his mother beat the shite out of him. Then she called his father, who beat the shite out of him again.
The next day Mohammad returned to school.
The teacher saw all his fresh bruises.
"What happened to you, Mick?" she asked.
"Well, shortly after becoming an Irishman, I was attacked by two fricking Muslims
paperwasp
Alabama Fan
1.5x HRV tRant Poster of the Week
Member since Sep 2014
17633 posts

re: GMT
Posted by paperwasp
on 2/8/23 at 8:43 am to Armymann50
quote:




---

Operation Lam Son 719, a 17,000 man incursion into Laos

---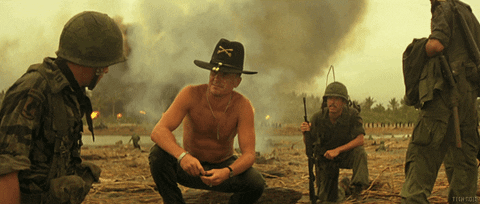 Armymann50
LSU Fan
Playing with my
Member since Sep 2011
14083 posts

re: GMT
Posted by Armymann50
on 2/8/23 at 11:17 am to paperwasp
i love the smell of napalm in the morning
Angry Wolf
Alabama Fan
West of BHM
Member since Nov 2014
237 posts

re: GMT
Posted by Angry Wolf
on 2/11/23 at 6:40 pm to Armymann50
JOTD. Gold!
Back to top
Follow SECRant for SEC Football News