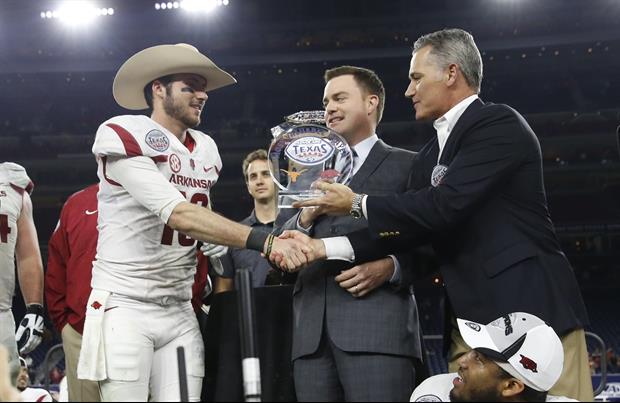 Kevin Jairaj-USA TODAY Sports
Per ESPN: Brandon Allen threw for 160 yards and two scores as Arkansas rolled to an easy 31-7 win over Texas in the Texas Bowl on Monday night, the Razorbacks' first bowl appearance since 2011.
It was the first game between these former Southwest Conference rivals since 2008 and ends a two-game skid in the series for Arkansas. The game was played in front of a sellout crowd that included Earl Campbell, who won the Heisman Trophy at Texas in 1977.
Arkansas (7-6) built a 24-7 lead by halftime and Jonathan Williams, who finished with 105 yards rushing, added a 1-yard touchdown run early in the fourth quarter to make it 31-7.
Complete Recap
Box Score
Top Performers
Passing: B. Allen (ARK) - 160 YDS, 2 TD
Rushing: J. Williams (ARK) - 23 CAR, 105 YDS, 1 TD
Receiving: D. Wilson (ARK) - 2 REC, 52 YDS, 1 TD
Related:
Popular Stories